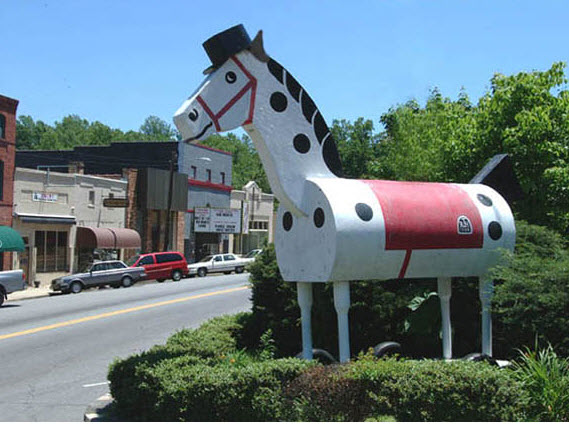 Expedia has declared Tryon a 'Best Place to Escape. It is described as historic, artsy and rural enough to offer sanctuary from the pressures of everyday life.
During the 19th century, a surveyor drew Tryon's town boundaries by drawing a circle with a compass. At the center of that circle now stands Morris the horse, symbol of Tryon NC.
The Tryon toymakers and Woodcarvers Association built the first horse in 1928 for the Tryon Riding and Hunt Club. It was a large sized version of one of their most popular toys. Today, the central Tryon location where Morris stands is a sort of community billboard Center. The current Morris is the fourth horse to occupy the spot, this time with a fiberglass body designed to survive weather, time and human interaction. He stands twenty-two hands high.
Why is he named Morris? The name was given to him many years ago by a group known as the Wilderness Road Gang.
Visitors have been known to report conversations with Morris.